SRI INDU PRACTISEHUB ACHIVEMENTS IN GMRIT, SRIKAKULAM TECH FEST (STEPCONE2K19)
Recently we have been participated in GMRIT College-Srikakulam and we have won 5 awards and awarded which 64,000 prize money.
We have actively participated in major International events and secured respective positions:-
1st prize in Project design contest
1st prize in paper presentation(EEE Domain)
Young Innovation award
Silver medal prize for best paper presentation in all Departmental Domains
2nd prize for Drone Racing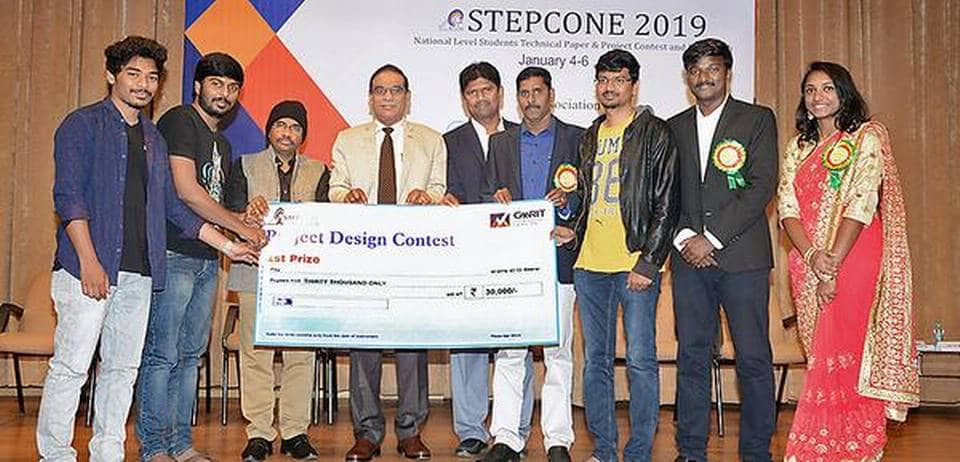 Awarded with a cash prize of 64,000 on total for all our winnings.
Our achievement was published in "The Hindu" newspaper dated on 7th Jan 2019.
61 students are selected for year of passing 2018 to 2019 [batch 2015]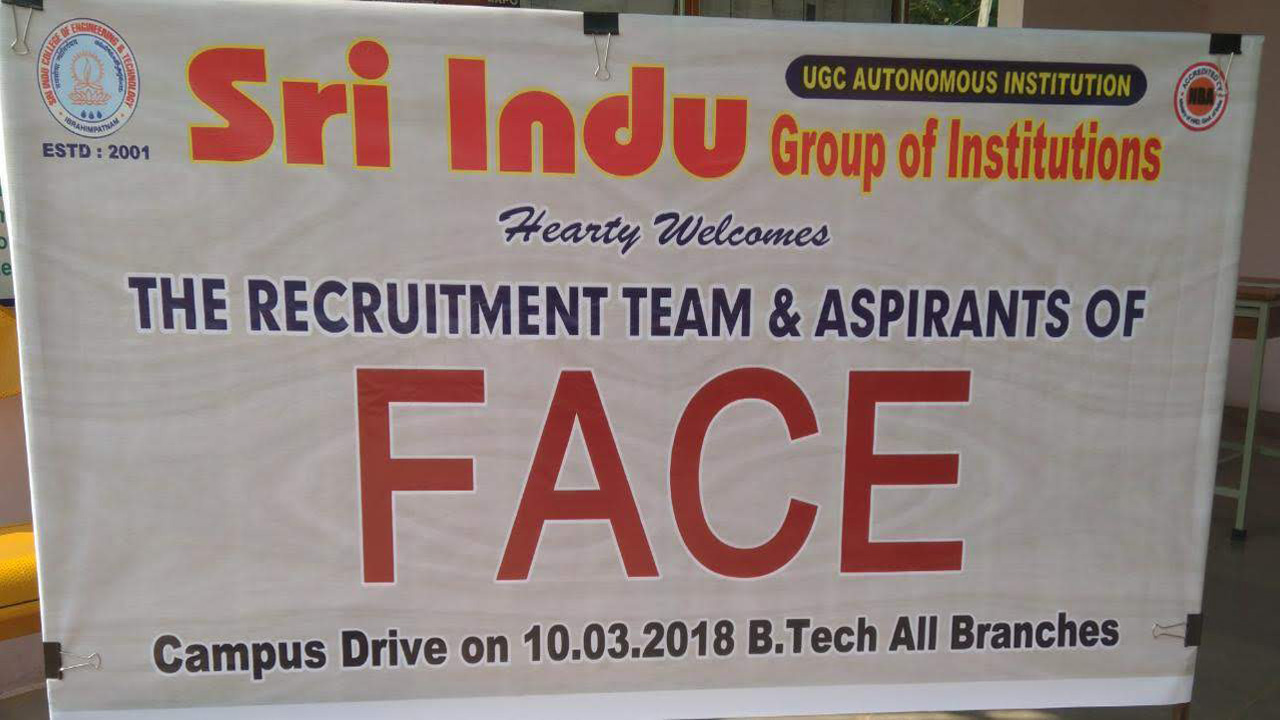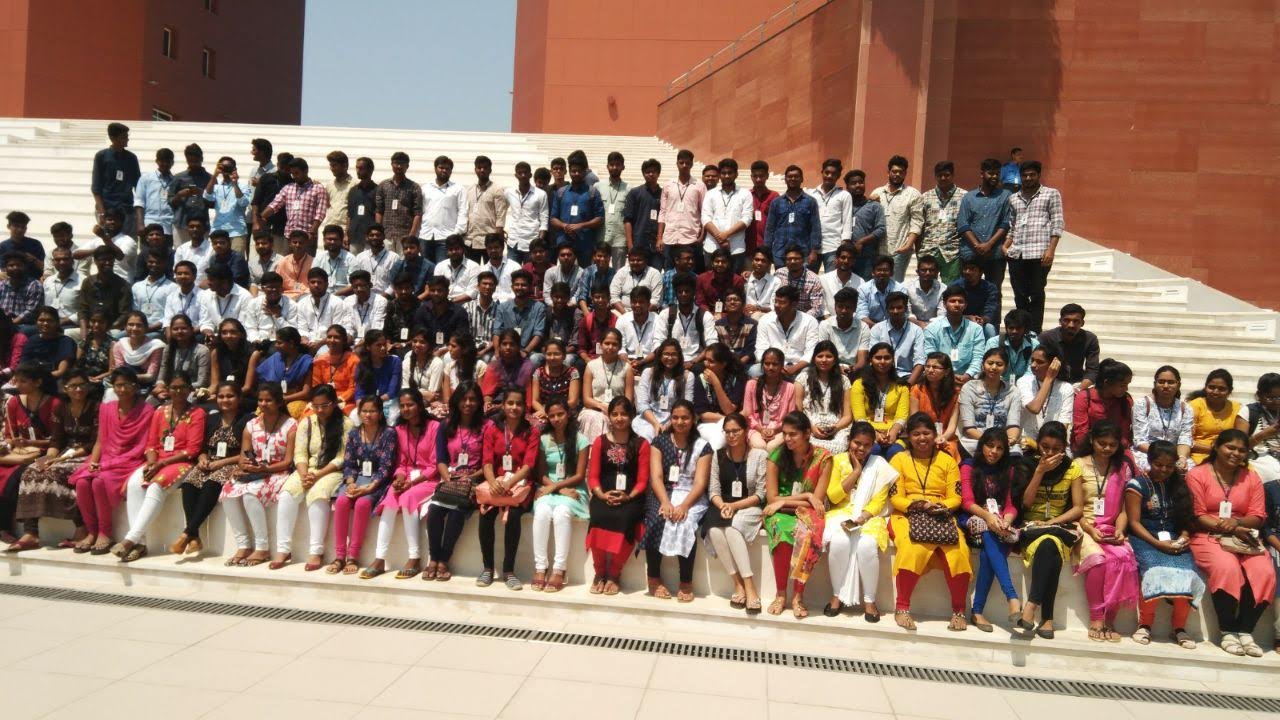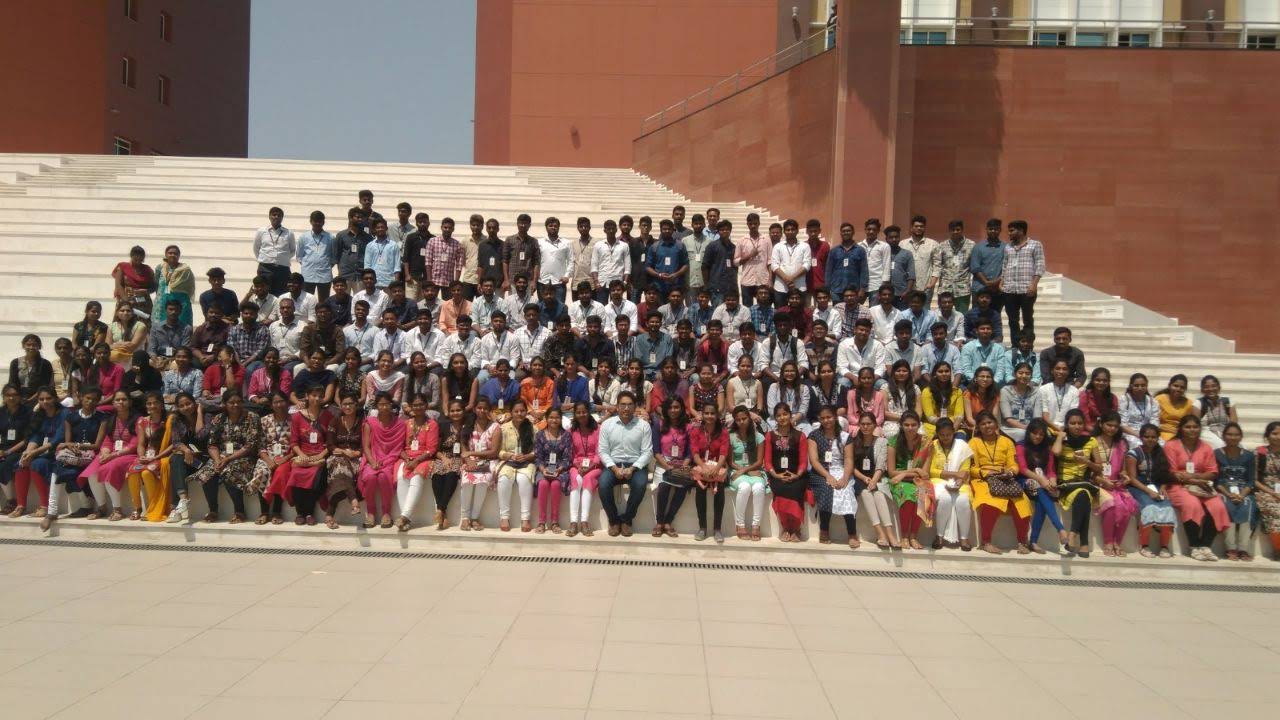 Students Placed through Campus Placements 2017 -2018 (2014-Batch)
| S.No. | Company Name | Compensation pack. (in Rs. LPA) | Total no. of selects |
| --- | --- | --- | --- |
| 1. | ADAPT MOTORS | 1.8 | 3 |
| 2. | ADITYA MLA | 2.4 | 3 |
| 3. | AEGIS | 1.8 | 2 |
| 4. | Aliens Group | 1.8 | 25 |
| 5, | Amara Raja Group | 2.65 | 1 |
| 6. | Amazon | 8 | 2 |
| 7. | Arnazon(VCC) | 3 | 24 |
| 8. | AMD | 3 | 1 |
| 9. | Apps Associates | 4.2 | 2 |
| 10. | ARSEN HR MBA | 1.8 | 4 |
| 11. | AG TECHNOLOGIES | 5 | 2 |
| 12. | BAJAJ | 1.8 | 5 |
| 13  | C3i | 2.74 | 16 |
| 14  | CADe I lo | 3.5 | 1 |
| 15  | CAPGErviiNi | 3.15 | 11 |
| 16  | CISTRON SYSTEMS | 1.8 | 5 |
| 17. | CB S | 1.8 | 2 |
| 18  | COSTUCO | 2 | 21 |
| 19  | CTRLS | 3.6 | 2 |
| 20. | Cyient | 3,25 | 11 |
| 21. | e-Appihnovations | 2.4 | 15 |
| 22. | e-COMMERCE | 1.8 | 1 |
| 23  | EIDIKO SYSTEMS | 1.8 | 18. |
| 24  | EIQ Networks | 5 | 4 |
| 25. | ELEATION | 1.8 | 12 |
| 26. | ELICO HEALTH CARE | 2 | 7 |
| 27. | FACE | 2.4 | 18 |
| 28. | Feotset | 3.8 | 4 |
| 29. | GENESYS | 2 | 6 |
| 30. | GENPACT | 1.8 | 29 |
| 31. | GGK Tech | 4.2 | 2 |
| 32. | Gobalspace Technologies Ltd | 3 | 1 |
| 33. | Flex aw.a re | 2.5 | 3 |
| 34. | HIREMEE | 2 | 35 |
| 35. | HITACHI | 3.4 | 2 |
| 36. | E BIRDS TECHNOLOGIES | 3.4 | 1 |
| 37. | IMRT (L& T METRO) | 2.4 | 16 |
| 38. | INDIAN EAGLE | 2 | 3 |
| 39. | INDIAN NAVY | 11 | 21 |
| 40. | INFASTA | 3.4 | 8 |
| 41. | Infosys | 3.25 | 12 |
| 42. | John Deere | 6.5 | 4 |
| 43. | Just Dial | 2.16 | 1 |
| 44. | Korey Labs | 1_2 | 1 |
| 45. | KTREE | 4.25 |   |
| 46. | L&T Metro | 3.5 |   |
| 47. | MAC. software | 5 | 1 |
| 48. | Mphasis | 2.5 | 8 |
| 49. | MRF | 2 | 1 |
| 50. | MROADS | 6 | 1 |
| 51. | MULTIPLIERS | 2.8 | 15 |
| 52. | Neuclesic | 3.4 | 12 |
| 53. | NTT DATA | 3 | 10 |
| 54. | OpenText | 5,5 | 2 |
| 55. | PurpleTalk | 3 | 5 |
| 56. | QSPIDERS | 3 | 23 |
| 57. | RAN DSTAND RECRIMMENT | 1.8 | 7 |
| 58. | RDC CONCRETE INDIA | 3.03 | 2 |
| 59. | S & P Global | 3,5 | 12 |
| 60. | Seneca Global | 3.35 | 2 |
| 61. | SERVO MAX | 1.8 |   |
| 62. | SiA | 2.4 | 13 |
| 63  | SITEL | 1.8 | 5 |
| 64  | STAR FLYERS | 3.5 | 27 |
| 65. | SUNE RA TECHNOLOGIES | 3 | 3 |
| 66. | SYNTEL | 3.4 | 3 |
| 67. | TECHNOVERT | 3 | 2 |
| 68. | TECNICS | 1.8 |   |
| 69. | Thermax | 4.5 | 1 |
| 70. | TRANSPACK | 3.6 | 4 |
| 71. | Value monnehturri | 3.3 | 2 |
| 72  | NEON Consulting | 2.4 | 7 |
| 73  | VirtusePolaris | 3.4 | 3 |
| 74. | WEST LINE SHIPPING | 12 | 31 |
| 75. | Zensar | 5 | 1 |
| | Total So far…… | 589 | |
Students Placed through Campus Placements 2016 -2017
S.No.
Company Logo
Company 
No. of offers
Salary
1
Advanced Auto Accessories
10
4,20,000
2
BEES SOFTWARE SOLUTIONS PVT Ltd.
6
1,80,000
3
BestTax Filer
11
1,44,000
4
C3i
9
3,50,000
5
CA
3
6,00,000
6
Carbon Software Solutions
10
5,20,000
7
Cognizant
18
3,50,000
8
COLORS
2
3,00,000
9
CommLab India
9
2,40,000
10
Compassites Software Solutions
3
2,50,000
11
Cyient
7
4,00,000
12
Digital - Lync
5
2,20,000
13
Eabyas
11
2,00,000
14
eAppInnovations
9
1,80,000
15
Efftronics
2
2,50,000
16
Eidiko Systems Integrators - IBM Premier Business Partner
44
1,50,000
17
EIQ Networks
5
4,50,000
18
Excers Technologies Pvt Ltd., 
3
4,25,000
19
FACE
7
2,64,000
20
FACTSET
7
2,21084 + Transport
21
Financial Software Systems
2
3,00,000
22
Genpact
24
2,40,000
23
GGK Technologies
4
2,40,000
24
GROW CONTROLS PVT LTD
6
2,20,000
25
HCL Technologies
2
3,00,000
26
Hetero
7
2,50,000
27
IMI Mobile
4
3,50,000
28
Indian Navy
9
12,00,000
29
Inrhythm
6
4,00,000
30
JUST DAIL
7
2,64,000
31
KONY LABS
4
5,00,000
32
Medha Servo Drives Pvt. Ltd.
2
3,00,000
33
MicroLand
5
3,00,000
34
Mindtree
9
3,25,000
35
Moldtek
6
3,00,000
36
Mordor Intelligence
3
2,25,000
37
MovinhDneedle
1
2,82,000
38
Mphasis
18
3,00,000
39
MULTIPLIER
4
3,50,000
40
Netcon Technologies
2
2,50,000
41
Neuralbrain Technologies
7
3,00,000
42
OpenText
5
3,50,000
43
Osmosys  Software Solutions
4
5,00,000
44
Preeminent Technology
4
2,25,000
45
Purple Talk
6
2,50,000
46
SECURIFI
9
3,50,000
47
SP Golbal Solution
11
2,40,000
48
Sunera Technologies
2
2,40,000
49
TORRY HARRIS BUSINESS SOLUTIONS
3
3,00,000
50
Tvashtri
5
3,00,000
51
Varsiddu Services Pvt Ltd.
17
1,68,000
52
Veon Consulting
4
1,76,000
53
Vijai Electricals
16
2,40,000
54
VirtusaPolaris
8
3,36,000
55
VISTEX
7
2,88,000
56
West line Shipping
25
14,00,000
57
Wozart
3
3,00,000
 
Total So far……
442
Students Placed through Campus Placements 2015-2016
| S.No. | Company  | Students Selected  | Salary |
| --- | --- | --- | --- |
| 1 | TCS | 28 | 3,50,000 |
| 2 | NTT DATA | 15 | 3,25,000 |
| 3 | CYIENT | 18 | 3,00,000 |
| 4 | INFOSYS | 9 | 3,25,000 |
| 5 | IBM | 19 | 3,00,000 |
| 6 | COGNIZANT | 22 | 3,50,000 |
| 7 | PRESISTENT | 2 | 4,00,000 |
| 8 | ADP | 6 | 4,05,000 |
| 9 | CA TECHNOLOGIES | 2 | 5,00,000 |
| 10 | HCL TECHNOLOGIES | 28 | 3,00,000 |
| 11 | GENPACT | 18 | 2,25,000 |
| 12 | OPENTEXT | 18 | 4,00,000 |
| 13 | INRHYTHM SOLUTIONS | 9 | 3,75,000 |
| 14 | HYUNDAI MOTORS | 4 | 5,00,000 |
| 15 | MINDWAVE INFORMATICS | 54 | 3,00,000 |
| 16 | OSMOSYS SOFTWARE SOLUTIONS | 6 | 4,00,000 |
| 17 | PURPLE TALK | 1 | 5,00,000 |
| 18 | CAPGEMINI | 12 | 4,25,000 |
| 19 | EXCERS | 5 | 3,75,000 |
| 20 | APALYA TECHNOLOGIES | 11 | 2,75,000 |
| 21 | SECRO | 47 | 2,00,000 |
| 22 | ACCENTURE | 18 | 3,25,000 |
| 23 | APLPHA 9 MARINE SERVICES | 6 | 14,00,000 |
| 24 | BHEA KNOWLEDGE TECHNOLOGIES | 9 | 2,00,000 |
| 25 | INDIAN ARMY | 5 | 4,00,000 |
| 26 | GGK TECHNOLOGIES | 8 | 4,25,000 |
| 27 | MAQ SOFTWARE | 7 | 5,25,000 |
| 28 | AMAZON | 9 | 3,25,000 |
| 29 | MPHASIS | 12 | 4,25,000 |
| 30 | VALUE LABS | 8 | 4,00,000 |
| 31 | PRIME KI SOFT SOLUTIONS | 19 | 2,00,000 |
| 32 | trIPOD TECHNOLOGIES | 17 | 3,25,000 |
| 33 | MINDtrEE | 8 | 3,50,000 |
| 34 | MOLDTEK | 5 | 3,25,000 |
| 35 | SYNTEL | 19 | 3,00,000 |
| 36 | ZEN Q | 13 | 2,75,000 |
| 37 | GRANULES | 2 | 2,75,000 |
| 38 | BRIDGESTONE | 2 | 3,50,000 |
| 39 | KARVY | 4 | 2,75,000 |
| 40 | INTONE NETWORKS | 27 | 2,75,000 |
| 41 | WEBYOG | 29 | 5,00,000 |
| 42 | PROGRESS SOFTWARE | 1 | 3,75,000 |
| 43 | METALCAM TECHNOLOGIES | 3 | 2,75,000 |
| 44 | UBER INDIA SYSTEMS | 5 | 2,25,000 |
| 45 | MAGICPIN | 2 | 2,50,000 |
| 46 | ONE.COM | 4 | 2,00,000 |
| 47 | CODILAR | 3 | 2,50,000 |
| 48 | ZIPPR | 5 | 2,00,000 |
| 49 | JOSH TECHNOLOGY GROUP | 2 | 3,00,000 |
| 50 | VERNAILS SOFTWARE ENGINEER | 1 | 2,00,000 |
| 51 | TECH MAHINDRA | 18 | 3,25,000 |
| 52 | AMDOCS | 2 | 3,75,000 |
| | TOTAL | 607 | |
Students Placed through Campus Placements 2014-2015
| S.No. | Company | Students Selected | Salary |
| --- | --- | --- | --- |
| 1 | CA | 2 | 6,20,000 |
| 2 | Teradata | 2 | 5,50,000 |
| 3 | Polycom | 3 | 4,75,000 |
| 4 | ADP | 17 | 4,05,000 |
| 5 | Accenture | 3 | 3,75,000 |
| 6 | Convergys | 1 | 3,75,000 |
| 7 | GGK Technologies | 3 | 3,60,000 |
| 8 | Capgemini | 1 | 3,36,000 |
| 9 | IBM | 20 | 3,30,000 |
| 10 | Virtusa | 12 | 3,30,000 |
| 11 | Mind tree | 8 | 3,30,000 |
| 12 | Persistent | 6 | 3,30,000 |
| 13 | HCL Technologies | 16 | 3,25,000 |
| 14 | Hyundai | 1 | 3,25,000 |
| 15 | INFOSYS | 28 | 3,25,000 |
| 16 | Tech mahindra | 15 | 3,25,000 |
| 17 | CSC | 9 | 3,20,000 |
| 18 | TCS | 20 | 3,17,000 |
| 19 | Amazon | 12 | 3,10,000 |
| 20 | Prolifics | 2 | 3,00,000 |
| 21 | Osmosys | 18 | 3,00,000 |
| 22 | NTT Data | 6 | 3,00,000 |
| 23 | ValueLabs | 2 | 2,75,000 |
| 24 | Dell | 14 | 2,75,000 |
| 25 | HP | 12 | 2,75,000 |
| 26 | Unisys | 4 | 2,75,000 |
| 27 | Hynsol | 17 | 2,75,000 |
| 28 | Cyient | 18 | 2,75,000 |
| 29 | Opentext | 20 | 2,75,000 |
| 30 | MPhasis | 15 | 2,75,000 |
| 31 | GlobalEdge | 5 | 2,75,000 |
| 32 | Kensium Solutions | 1 | 2,50,000 |
| 33 | Solix Technologies | 1 | 2,50,000 |
| 34 | Apollo health street | 9 | 2,50,000 |
| 35 | Berkadia | 3 | 2,50,000 |
| 36 | Cummins | 13 | 2,50,000 |
| 37 | Just Dial | 9 | 2,25,000 |
| 38 | Genpact | 20 | 2,25,000 |
| 39 | Thought Focus | 1 | 1,75,000 |
| 40 | Factset | 1 | 1,75,000 |
| 41 | Vensai Technologies | 1 | 1,75,000 |
| | TOTAL | 371 | |
Placements Record
The Following are the Companies that have Visited our Campus and recruited our students owing to their merits during last nine years based on the efforts put by the Management
| S.No | Company Name | Recruited | S.No | Company Name | Recruited |
| --- | --- | --- | --- | --- | --- |
| 1 | ADP | 16 | 2 | Accenture | 25 |
| 3 | Agasthya Software | 9 | 4 | Air Force | 21 |
| 5 | Amazon | 16 | 6 | Amdocs | 11 |
| 7 | Ameswerthink | 11 | 8 | Apps Associates | 16 |
| 9 | Assurgent Technologies | 19 | 10 | Bloom Soft Tech | 22 |
| 11 | Brigade Corporation | 13 | 12 | Broadcom | 5 |
| 13 | Broadridge | 7 | 14 | CA | 4 |
| 15 | CAPTIAL IQ | 133 | 16 | CMC Limited | 19 |
| 17 | CRP Technologies | 3 | 18 | CSC | 5 |
| 19 | CTS | 26 | 20 | Convergys | 26 |
| 21 | Couth IT | 7 | 22 | Cummins | 3 |
| 23 | Danlaw Technologies Ltd. | 3 | 24 | Dell International | 54 |
| 25 | Dhanush InfoTech | 17 | 26 | Expera Pvt Ltd | 13 |
| 27 | GE Money | 27 | 28 | Genpact | 49 |
| 29 | Glister Power Controls | 4 | 30 | Google | 7 |
| 31 | HCL | 97 | 32 | HCL BPO | 17 |
| 33 | HDFC Bank | 46 | 34 | HSBC | 5 |
| 35 | Haya Soft | 58 | 36 | Hetero Pharmacy | 30 |
| 37 | Hexaware Tech | 7 | 38 | Hexicon | 11 |
| 39 | Honeywell | 8 | 40 | Husys | 8 |
| 41 | Hyundai | 8 | 42 | I GATE | 6 |
| 43 | IBM | 25 | 44 | IBM (Dynpro) | 19 |
| 45 | ICICI Securities | 19 | 46 | INFOSYS | 135 |
| 47 | Idea Cellular | 9 | 48 | Indai Bulls | 9 |
| 49 | Indegene | 5 | 50 | India Infoline | 16 |
| 51 | Info Media | 12 | 52 | Infotech | 54 |
| 53 | Invensys | 17 | 54 | JDA | 5 |
| 55 | Kelly Services | 39 | 56 | Knoah Solutions | 48 |
| 57 | Knowledge Infotech | 13 | 58 | L&T Infotech | 19 |
| 59 | L-Cube | 52 | 60 | Labs Infotech | 7 |
| 61 | Minvesta | 4 | 62 | Moldtek | 11 |
| 63 | Mphasis | 52 | 64 | My Home Industries | 6 |
| 65 | NJ Invest India | 6 | 66 | Nipuna Services Ltd., | 8 |
| 67 | Ocean Shipping | 12 | 68 | Oracle | 3 |
| 69 | Osmosys | 16 | 70 | Phoenix Sea Services Pvt Ltd | 0 |
| 71 | Phoenix Shipping | 75 | 72 | Pinkerton | 12 |
| 73 | Qual Core Logic | 16 | 74 | ROFOUS | 61 |
| 75 | Reliance | 70 | 76 | Rolandtech | 18 |
| 77 | Sapient Technologies | 11 | 78 | Sasken | 46 |
| 79 | Semantic Space | 13 | 80 | Serene Global | 15 |
| 81 | Sierra Atlantic | 4 | 82 | Sitel India | 10 |
| 83 | Sonata Software | 11 | 84 | Spica Soft. | 34 |
| 85 | Sutherland Global | 19 | 86 | Synergy | 10 |
| 87 | Syntel | 30 | 88 | TATA Chemicals | 6 |
| 89 | TCS | 32 | 90 | Talent Sprint | 24 |
| 91 | Tech Mahindra | 127 | 92 | Tech Mahindra BPO | 14 |
| 93 | Trianz Consulting | 4 | 94 | Valus Labs | 16 |
| 95 | Vijai Electricals | 8 | 96 | Virtusa | 20 |
| 97 | Wipro | 35 | 98 | Wipro BPO | 43 |
| 99 | Yes Bank | 13 | 100 | Z4x7 Customer Care | 21 |
| 101 | keane | 24 | | | |
607 Students were Successfully Recruited During 2015-2016
371 Students were Successfully Recruited During 2014-2015
359 Students were Successfully Recruited During 2013-2014
269 Students were Successfully Recruited During 2012-2013
335 Students were Successfully Recruited During 2011-2012
442 Students were Successfully Recruited During 2010-2011